20. Togston
start: Togston, Amble
distance: 19 miles
OS map: 81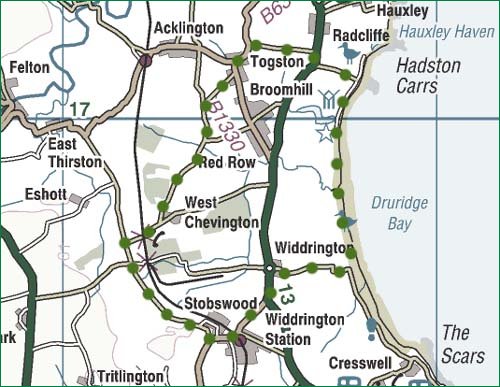 In all fairness, it can't be said that that this route is the most exciting you'll ever do but it does include Druridge Bay which is a stretch of the coastline you might not visit otherwise. Part of the route here is in a nature reserve.
Togston is a couple of miles or so SW of Amble on the coast. There's a layby at (248 017) just outside of Togston village. Head NE and take a R turn past Togston Barns. At the A1068 turn R then L at (267 013) heading for the coast. The route follows the coast now as far as a parking area at (277 960) where you turn R for Widdrington. Go L at the main road and then R for Widdrington Station. Cross the railway and a short way along the road take a R fork for Stobswood.
Just past the crossroads at Chevington Moor take the next R to cross the railway again and follow this road towards Acklington Prison. As you approach the prison, take the R turn for Togston.
jb, galashiels
Download GPS data in GPX format.